In 1937, the Roman-Catholic Bishop Carlos Duarte Costa with his diocese of Botucatu, Brazil, split up with papacy. He accused the Vatican of having collaborated with the national socialists and fascists. In 1945 already the Igreja Católica Apostólica Brasileira was founded and, in 1949, was brought to Germany by the future Archbishop Johannes Peter Mayer-Mendez, where it was registered as Free Catholic Church.
After the death of the Archbishop, his successor Archbishop Hilarios Ungerer transfered the seat of the Archbishop, i.e. the principal seat, from Cologne to Munich, the Capital of Bavaria.

Today Munich also takes care of Manila/Philippines, Los Angeles and Miami/USA. Every year the Archbishop is on pastoral trips to the above mentioned missions.

There exist concordats with Catholic and Orthodox Churches.

Archbishop Hilarios Primate Ungerer D.D.
In September 1972, Bishop Hilarios Ungerer rented a shop for a "shop church" in the Thalkirchner Str. 25 in Munich, as it was in fashion in big towns at that time.
<![if !vml]>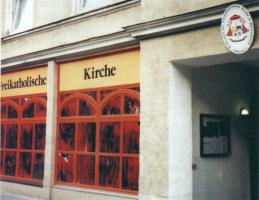 <![endif]>During these 25 years he has successfully endeavoured to integrate marginal groups into our church. More than 35,000 people in Bavaria, mainly in Munich, were administered all Catholic sacraments or received pastoral care.
The Free Catholic Church also takes care of those Christians who left the state churches, but nevertheless look for a church home, who want to have a church wedding although their first marriage was divorced, who wish to have a church funeral, or who simply long for a church, congregational community.
<![if !vml]>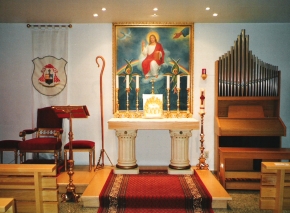 <![endif]>Although, during the entire period, the Free Catholic Church has not received any state or municipal grants and Archbishop Hilarios Ungerer, during all these years, has had to finance the church from the small donations of the faithful, the church today is more beautiful than ever on its regular place.
All people of good will who feel addressed are asked to help with their donations or personal activities to continue the work of the Free Catholich Church that merrits protection.
Archbishop, Vicar-General and the clergy are looking forward to your commitment.

Galery
(to enlarge a picture you just have to click on it - to return to this page please use the "Back"-Button of your Browser.)

50 years Free Catholic Church (Oct. 10th, 1999)

Oecumenical wedding
in Tschechia(Sept. 9th, 1999)

St. Michael - Los Angeles:

The Archbishop with clergy

Baptism

Confirmation

Holy communion

Archbishop Hilarios

Holy Cross - Miami

Procession to the Free Catholich Church in Miami / Florida - USA

Community of Holy Cross

Free Catholic Church Miami

Philippines

Service at New Year's Eve 1999 in the villa of Mr. Mark Jimenez with Msgr. Sabino Vengco jr.

Archbishop Hilarios and Archbishop Abdias dela Cruz in Manila

Archbishop Hilarios and Mr. Mark Jimenez
Special Edition
"Die Sendung"